Venice Market Visit & Hands-On Cooking Class with Home Chef
Type
Custom travel service
Group
Contact us for groups larger than 2
W
elcome to Venice, and the world of Venetian cooking! Your guide and chef for the day will welcome you into her world and her family home, to share her culinary secrets with you. This class is fully private - it would be you, the chef and - perhaps - her mother in law too. This program includes a market visit first, in one of Italy's most famous markets - Venice's Rialto - and then the cooking class itself, which is held in the heart of Venice, in the historic district of Cannaregio.
Our chef will meet you in your hotel lobby at 9:00am. Taking the vaporetto, water bus (this is an extra cost), you will first visit the famous fish market together, and shop for the menu. You will then head to our chef's mother-in-law's house, in the very quiet and atmospheric area of Venice - Cannaregio. Their home and kitchen is in a typical Venetian palazzo, with a lovely view on the lagoon. You will be able to cook throughout, and that the class is fully hands-on. When the meal is ready you will sit down and have lunch all together.
The menu is ever-changing and based on availability and season, as well as your preferences and dietary needs. For example, the menu for a cooking class in November 2014 was:
Primo: Risotto with radicchio and king prawns/squids
Secondo: Monkfish with crust of almonds and saffron
Dolce: Ameretti with Mascarpone, coffee and cocoa
Included also: wine (soave or lugana), water, coffee
Related
Tours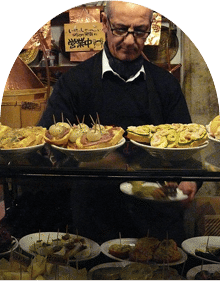 865,00

€
Rialto Fish Market Walk, Wine and Cicchetti Tour & Seafood Lunch
(All Included)
Experience Venetian-style seafood with a local expert sommelier and food guide. Visit the famous Rialto Market and discover the large variety of fresh local catch. Learn how to prepare fish, follow traditional Venetian recipes, and pair seafood with local DOCG wines. Experience a three-course seafood lunch at an excellent Venetian restaurant.
View Tour