Welcome to Italy Hotline Custom and Gourmet Tours!
We offer a wide selection of private tours, both walking and chauffeured, throughout Italy. Together with our professional tour guides, chefs and chauffeurs discover this beautiful country and all it has to offer: from its stunning, monument-packed cities like Rome and Florence to its small, charming hamlets like Tuscany's Montepulciano, to the watery splendor of Venice.
Food and wine is an inseparable part of the Italian culture, and we work with a trusted group of chefs, sommeliers, and artisan food producers, all of whom are eager to share their experience and expertise with you.
Whether you'd like to learn to make pizza on the Amalfi Coast or the perfect Spaghetti alla Carbonara in Rome, celebrate a special occasion in an ancient Venetian palazzo on the Grande Canal with an intimate wine tasting, enjoy a day out with the kids for a picnic in Chianti, or go truffle hunting in Umbria, our team is here to make sure your experience is absolutely unforgettable!
We also offer full concierge services (hotels, train tickets, musicians, photographers, catering, and much more) and Personal Itinerary Planning Services. We specialize in planning multi-city, multi-generational vacations.
All the tour guides, chefs, sommeliers, chauffeurs and other experts collaborating with Italy Hotline Custom and Gourmet Tours and featured on this page have been handpicked for their professional skills, experience and passion for Italy. Our office staff is responsive, creative, flexible, and speaks perfect English, trust Italy Hotline Custom and Gourmet Tours to open the Secret Door to Italy for you!
Rome

, Vatican & Lazio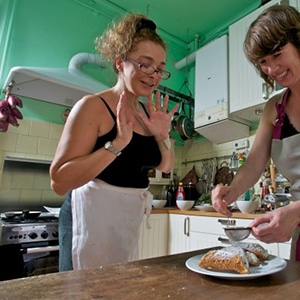 Francesca
Francesca was born and raised in Rome by a Neapolitan dad and a London mum. She became interested in cooking as a child and was in charge of the weekly pasta sauce! She graduated from Sydney's Culinary Academy Le Cordon Bleu and, upon her return to Rome, began her gastronomy and market tours, private catering business and cooking lessons. Francesca loves Italian regional food from the typical Roman and Lazio dishes like supplì, rice stuffed tomatoes, lamb with egg and parsley sauce to classics from Tuscany, Naples, Sicily and Venice. She specializes in handmade pasta from ravioli to tortellini, and lasagna. Dessert making is also a passion- everything from simple to complex desserts including gelato and tiramisu. Francesca started singing in a choir at the age of 3 so you might even learn an Italian song while you cook!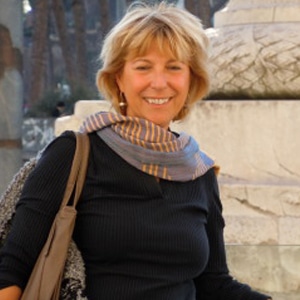 Grazia
Born and raised in Rome, Grazia has dedicated her life to learning and teaching about the wonders of the Eternal City. She studied architecture and, specifically, Rome's urbanistic development during the 14th and 15th Centuries at La Sapienza University, before going to America to pursue her other passion: dance. In New York she danced in theaters in the East Village and took courses in Modern Art History and Architecture at NYU. Today, finding herself back in her hometown she enjoys working as a tour guide, a career path she has chosen for herself more than fifteen years ago. Grazia is a dedicated, passionate and multi-faceted guide who believes that there isn't a single museum, monument or sunset is Rome that is not worth stopping for and taking the time to appreciate.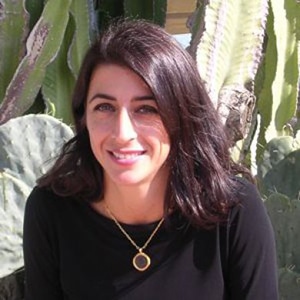 Daniela
Daniela was born and raised in Rome, where her passion for languages, art and the history has guided her focus in life. She earned her degree in tourism at the Christopher Columbus Tourism School of Rome, studied languages at Rome's La Sapienza University and abroad in England, France and Germany, and earned her Tourist Guide license in English and French in 1992. Daniela's favorite sites in Rome are endless, but she especially loves The Galleria Borghese with its superb wealth of Baroque art and its palatial interior that so clearly speaks of the extravagance and feasts of the past. Having two children herself, Daniela likes to give tours to young people and goes out of her way to make tours special for people of all ages.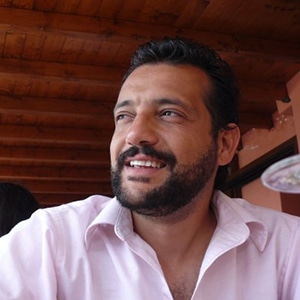 Ettore
Resident gourmand, wine enthusiast and certified Sommelier, Ettore, was born in the Castelli Romani, and straight into a culture of great food and wine. From an early age was also exposed to classical history, mythology, and philosophy, which gave birth to his lifelong interest in archeology. He is very passionate about local food and wine traditions and their historical significance, especially the food and wine culture of the Pre-Roman world. Any enogastronomic tour with Ettore pairs not only food with wine, but also culinary traditions with history and art. Ettore spent two years living in California together with his wife, and speaks fluent English. His charm, sense of humor and intelligence guarantee that any day spent with him to be a wonderful one.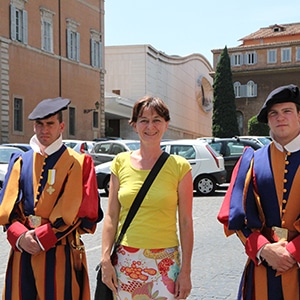 Ilaria
Hello, my name is Ilaria. I have been a Rome City and Vatican City guide since 2001. My university background is in History and Cultural Anthropology allowing me to share my knowledge and enduring delight in the Eternal City, while remaining sensitive to the many cultural differences, interests, and sensibilities visitors bring to their experiences of Rome & Italy. I've been working with Italy Hotline Custom & Gourmet Tours since 2015 and love the small, private group dynamic!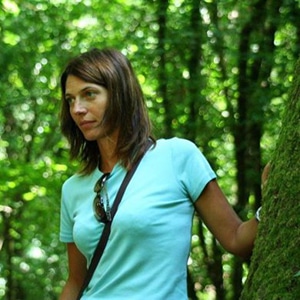 Silvia
Silvia has been passionate about her hometown of Rome since childhood, exploring the city with her architect uncle, discovering every hidden corner, and learning about the city's history from ancient times to the present. After studying modern languages, art, history and archeology she earned her official Tourist Guide license and has been opening the Secret Door to Italy for our guests ever since. Silvia's favorite site in Rome is San Clemente for its blend of pagan and Christian sites and its intriguing history. Her hobbies are cooking, choir singing and yoga. She recommends a day outside Rome with a visit to Ostia Antica, one of her favorite places for its calm natural beauty and wealth of historic interest, as well as taking a scooter tour of Rome for an exciting way to experience the city as the Romans do!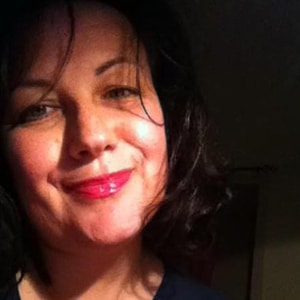 Silvia
Silvia was born in Italy's northern Lake District, near Brescia. Before becoming an official Tourist Guide she lived in various parts of Italy and Germany, studying languages and history. She first visited Rome as a tourist with her parents at the age of 13 and it was love at first sight. Now, years later, Silvia has settled down in the Eternal City and considers it home. Silvia's mission is to make sure that every person who is with her on her tour feels the same emotions that she felt, when she first laid eyes on the Sistine Chapel, as a little girl. Silvia is brilliant with children and teenagers, and some of her favorite sites include San Giovanni in Laterano, the Aventino, Trastevere and the Castelli Romani. In her free time Silvia enjoys nature walks and making jewelry.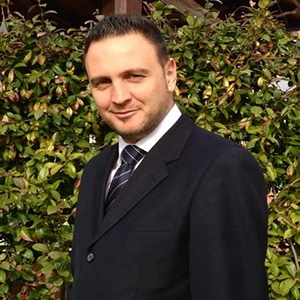 Marco
Born in Frascati, in the heart of the Castelli Romani, Marco spent his childhood growing up in the area of the Ostia Lido beach. After a long career in souvenir sales Marco felt the need to change his life, and – because of his eagerness and curiosity to meet new people and language skills – moved to Rome to start his own private chauffeur company together with his wife Sara. In the business for many years now, Marco is highly valued as a punctual, friendly, safe and reliable driver, whose impeccable fleet will complete any trip, making it unforgettable. Whether you are traveling on business, alone, or with your family and friends ñ Marco will be there for you from the moment you land at the airport or arrive at the cruise ship port, to welcome you in Rome.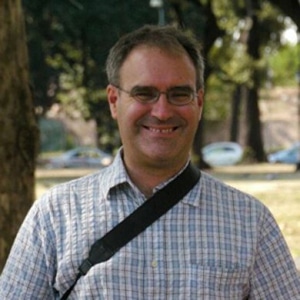 Anthony
Born in Montreal, Anthony Majanlahti has lived in Rome for many years, making this city his main focus in his writings and publications. He revels in bringing history to life in a thoroughly entertaining way, including the most fascinating facts along with scandal and passion. His masterpiece on Rome history, "The Families Who Made Rome: A History and a Guide" is a must-read to understanding the fascinating ins and outs, successes and failures of the noble families who literally constructed Rome. Majanlahti is an expert on everything Roman; including Ancient, Medieval, Renaissance, Baroque, Modern and Fascist eras. Anthony has connections like no one else in Rome and is the perfect person to get into amazing places that few people can ever see.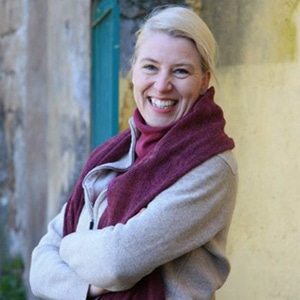 Susanna
Susanna is a bubbly, vibrant professional opera singer, tour guide and hostess extraordinaire, who will will welcome you in and introduce you to the beautiful Etruscan hamlets of Lazio. Whether it's a walk in Viterbo, Tuscania and Tarquinia, a beautiful catered meal in her private, medieval home in Vetralla, or an evening of opera extravaganza – Susanna and her husband Rudolph are there to show you that there is much, much more to Lazio than Rome and the Vatican City. An international couple themselves, Susanna and Rudolph love meeting travelers of different backgrounds and especially enjoy welcoming cruise ship travelers, who have seen the Eternal City before and are aching for a new, stimulating day-long experience from the port of Civitavecchia.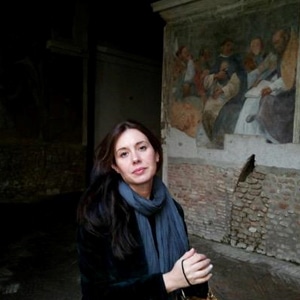 Cristina
This is my seventeenth year as an Official Tour Guide and I'm still excited to explore those villages with histories going back about 2,000 years with visitors! I love sharing my life between Umbria, Toscana, and Roma and now know every single corner of their special places. I also have deep knowledge of the culinary history of Umbria from Etruscan times through the Middle Ages to the present, so am eager to share the very best of the original SlowFood region. Recently, I have become a licensed Vatican City Guide, too. My passion for art led me to study Conservation of Cultural Heritage and travel throughout the world and what else is better than to share my experience with you?
Florence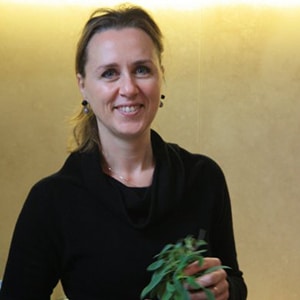 Laura
Laura is a professional Chef, born and raised in the beautiful city of Florence. She became interested in cooking as a little girl, with both of her grandmothers in the culinary and restaurant business in Italy and France. Over the years Laura also worked in restaurants, catering, and private culinary instruction. Her focus is always on seasonal, local and fresh ingredients, and she purchases most of her produce at her local Florentine market. Mother to an eight-year old girl, Laura is a patient and creative cook – her daughter's favorite dishes to make include pizza, fresh pasta and apple tarts, and Laura warmly welcomes families with children for fun, hands-on cooking classes. Used to her family's demands for a daily, and ever-changing menu, Laura is flexible and always happy to accommodate her guests' dietary needs and special requests. A typical day with Laura will begin with a stroll through her local market, followed by a short walk to her breathtaking, unique, and historic home. There, in her spacious state of the art kitchen, she will reveal the secrets of Tuscan cooking! Beyond her skills with a chef's knife Laura is a professional sommelier, accredited by the Associazione Italiana Sommeliers since 2001. She believes nothing compliments a meal like the right bottle of wine, and offers exclusive wine and cheese pairings in her home. Laura also offers exciting gourmet food walks, wine tastings, and vineyard and olive mill visits to our guests.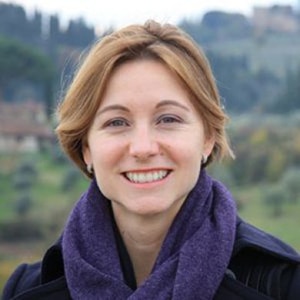 Lisa
Lisa is a first generation Italian-American born and raised in New York. Wanting to explore her roots, she studied Italian in college and spent a semester in Florence, before moving there permanently and receiving her qualifications as an official Tourist Guide. Later, enchanted by the Chianti countryside and its famed wine, she went on to receive her certification as a professional Sommelier. Lisa continues to be intrigued by Florence's art, history and culture on a daily basis and considers herself a "lifetime student". She spends her free time visiting the lesser-known gems of Florence, taking long walks in the countryside and exploring Renaissance gardens. She is fantastic with teens and children, and considers herself very fortunate to be able to share her knowledge and passion of the place she now calls "home".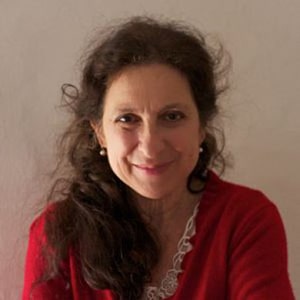 Lise
Lise is originally from Chicago, though she has spent the last several decades living in Tuscany. Before becoming an official Tourist Guide in 1995 she studied printmaking and art at the University of California and the University of Washington. Today, living in Florence, she loves helping people discover and understand the city's overwhelming abundance of history, art and architecture, as well as designing itineraries outside of Florence to take in the food and wine and other fantastic offerings of the Tuscan countryside. Having a son of her own, she is fantastic with children and teenagers and she has worked as a teacher, coordinator and museum lecturer for many groups coming to Italy, including the Humanities Institute, Dickens Destinations, Wilderness Travel, Classic Journeys, Backroads and countless school groups. She is our go-to expert for off the beaten path, specialized itineraries, and has a particular interest in Florence's artisans and fashion.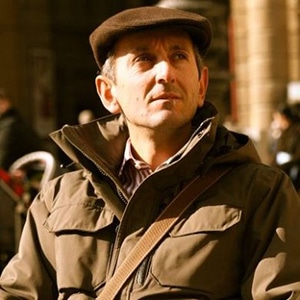 Michele
Michele was just six years old when his parents brought him to Florence, and it was love at first sight! This passion endured as he studied, worked and traveled the world until he was finally able to make Florence his home. Michele's favorite tours in Florence are those that delve into the genius of the great Renaissance artists such as Botticelli, Michelangelo, Brunelleschi and Leonardo, and tours of handicraft workshops that take advantage of his contacts with goldsmiths, leather working, sculpture and fresco artists. He truly enjoys helping curious and discerning visitors discover and share in Tuscany's riches, secrets and wonders. Michele is an adventurous man who loves the outdoors and in his free time enjoys parachuting, mountain climbing and rescue, diving, skiing, gardening and speleology.
Tuscany, Siena &
Pisa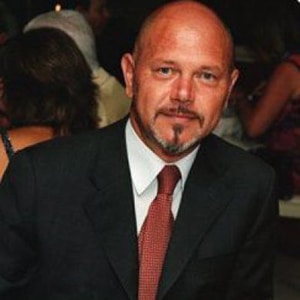 Riccardo
Born in Florence to a German mother and a Greek father, Riccardo has a rich and diverse cultural background. More than two decades ago he decided, together with his father, to work in tourism and opened his private-chauffeur-guiding company. He speaks English, Italian, German, French and a little Spanish, and loves meeting people from other countries and showing them the amazing sites of Florence and Tuscany. Riccardo also leads private chauffeured-tours outside of Tuscany, for example to Veneto, Emilia Romagna or Umbria. He has personal connections with local wineries and authentic osterie in the countryside, guaranteeing that any trip with him will be a culinary as well as cultural treat.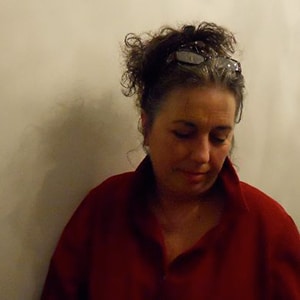 Pamela
Pamela lives with her family in a beautiful historic villa on their 15-acre organic farm near Montepulciano in Tuscany, an area famous for its great wine, olive oil and pecorino cheese. She originally trained as a chef in Los Angeles with noted chef Joaquim Splichal and over the last 20 years has enjoyed a freelance career as a culinary teacher, food stylist and food writer. She has published 16 cookbooks and her itineraries for us include cooking classes in her home, day trips in Tuscany and Umbria, weeklong culinary programs and trips exploring the back roads of Italian food and wine culture in several regions of Italy including Tuscany, Emilia-Romagna, Campania and Piemonte. She has personal contacts with small local producers to bring her guests in touch with the real Italy in every region and is involved with production herself and has an active oliveto with 1,250 olive trees and a garden that provides fresh, seasonal organic produce: when you cook with her you get a sense of the connection between the culinary tradition and the land.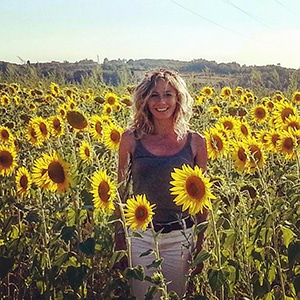 Martina
Hi everyone, my name is Martina!
A native of the magical and marvellous Cinque Terre area, I am an enthusiastic art historian with an M.A. Degree from the University of Pisa. Thanks to my passion for art and local history, I have been working as a Licensed Tour Guide and Tour Director in Tuscany and Italian Riviera since 2007. I love creating unique art, architecture and history tours of Pisa, Lucca, Volterra, San Miniato, and Cinque Terre for single travellers, families and small groups.
My goal is to make the most of your time in Italy, so we tailor the itineraries to your needs and interests to give you an authentic human experience and 'new eyes'! "The real voyage of discovery consists not in seeking new landscapes, but in having new eyes." (M. Proust)
Tuscany

& Liguria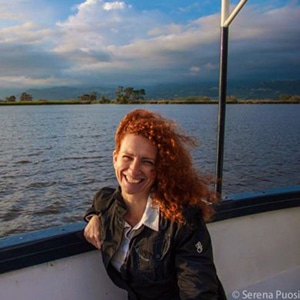 Serena
Serena is a vibrant tour leader and your guide in the Tuscan countryside. She is happily married to a man from Pisa and is the mother of two beautiful little girls. Serena lives in Versilia, on the Northern Tuscan coast, and is an absolute expert for the top, off-the beaten path destinations like Cinque Terre, Lucca, Garfagnana and the Etruscan Coast. Having worked with tourists for over a decade and lived in both London and Dublin, Serena speaks fluent English and is curious to meet travelers of all nationalities and backgrounds. Serena loves good food and wine, and leads gourmet food walks throughout Northern Tuscany; the wine producers and food artisans, over the years, have become her friends and traveling with her will make you a part of this special, genuine relationship.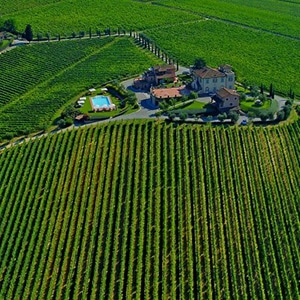 Stefano
Stefano, a true proud Tuscan, believes that visiting the land of Puccini, Michelangelo's "David", the great Medici Family and of some of the most breathtaking views in the world is quintessential to a complete trip to la bella Italia. Whether you are looking for a luxurious limousine ride through Florence, a guided tour of Lucca and Pisa, or a very personal, intimate walk through the vineyards and wine cellars of Chianti – Stefano will expertly manage your trip. He speaks excellent English, and welcomes business partners, couples, families and groups of friends every day, guaranteeing a pleasant, fun and immaculately coordinated excursion. We have created a number of exclusive tours together with Stefano to explore the cities of Lucca, Pisa, Siena, Greve in Chianti, Pienza, Montalcino, Montepulciano, Cortona, Monteriggioni, Arezzo, Massa and Carrara, and the area of Cinque Terre in Liguria.
Pompeii, Amalfi,
Sorrento

& Naples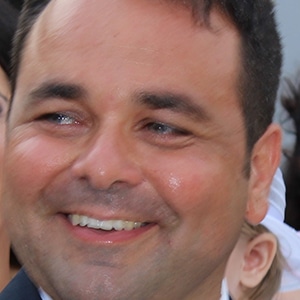 Gaetano
I was born in Naples, where I have lived all my life, where I love living! I travelled when I finished school, worked in the US, UK, Spain…but the only two things I was sure about were that I wanted to live in Naples and that I wanted to work in tourism!
I started by working for one of the biggest cruise operators, which was an important learning experience, and exactly where I wanted it, the port of my own beautiful town. After 10 years with them I felt ready to move on into my own company which I happily run and work in today.
We provide car service within the region of Campania and its beautiful and historical sites, famous all over the world, like Napoli, where we are based, Sorrento, and Amalfi Coast, Pompeii and Vesuvio. We also provide transfer services between airport, train station, ports of Naples & Salerno and hotels.
I enjoy my work as I get to meet new people everyday and driving around this beautiful corner of the world I get to pass on my passion and love for this unique place, by showing guests around as well as local food tasting, and the ways of the locals! Come visit us…you'll be amazed!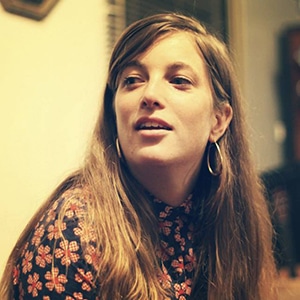 Sophia
Whilst studying History of Art and Italian at University College London I stumbled quite by accident upon the beguiling city of Naples. I fell in love in a way that changed my life forever. Since those heady days when the city was revealing itself to me and I was falling feverishly in love with every corner of it, I have dedicated myself to the craft of Naples: learning its ways, understanding its dialect, knowing its characters, and discovering its unconventional personality. I divide my time between researching and writing about Naples, and curating unique experiences of this remarkable area of Italy. Moreover, my unceasing aim is to thrust the dominant negative narrative of Naples out the door, by sharing its intriguing histories, crumbling splendour, and majestic natural beauty.
Umbria,
Assisi

& Perugia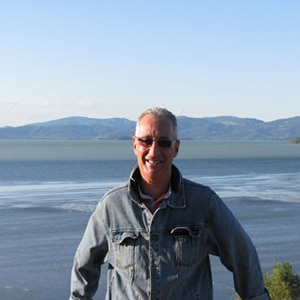 Marco
Marco was born in Assisi, Umbria. History and Art History have always been important interests and so, when he decided to become a professional Tourist Guide more than 15 years ago, Marco spent years studying closely the historical, artistic and cultural patrimony of Umbria. His most popular tours include Assisi, Perugia, Orvieto, Todi, Spoleto, Gubbio, Spello, Trevi, Bevagna, Montefalco, the Trasimeno Lake area, Norcia and Narni. Marco's parents worked in the food and wine business and he grew up surrounded by sommeliers, cooks and local food experts. He is always very happy to go out of his way and allow his guests to experience an olive pressing day, a wine tasting or simply a terrific, authentic lunch. Whatever your interests in Umbria may be – you are in trusted, expert hands with Marco.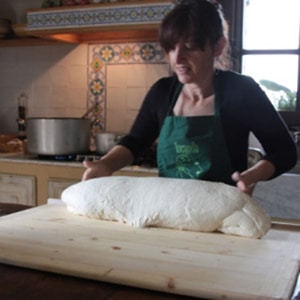 Paola
Paola, a native Umbrian, is a creator of local cuisine beyond parallel. She is a master of everything: Antipasti, bread baking and pizza making, home made pasta, roasts and steaks, desserts and liqueurs. She takes simple traditional recipes and highlights and transforms them with her expert culinary vision, leaving you with a taste of her dishes that will stay with you forever, in a memory of a perfect meal. Paola is one of those people for whom cooking comes naturally and having been born and raised in a part of Umbria with a bounty of natural ingredients at hand she has lived this cuisine since birth. Meet Paola and discover the incomparable cuisine, hospitality and charm of Umbria that can only lead to a long lasting love affair with this magical Green Heart of Italy.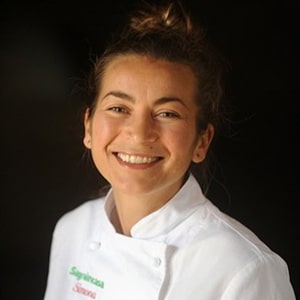 Simona
Simona, Roman by birth, trained at the Gambero Rosso, a renowned culinary institute in Rome, and several years ago additionally completed her training as a professional Sommelier in Umbria. She can now be found living in a beautiful rustic farmhouse near Orvieto, which has been lovingly restored by her and her British husband Nick, a renowned photojournalist. For the past decade Simona has immersed herself in the local Umbrian lifestyle and cuisine, learning from both professional chefs and, most importantly, the local ënonnasí (Italian for ëgrandmothersí!). With a profound respect for what nature has to offer, as well as a delicately trained palate, Simona can create the most interesting balances of flavours. Take a cooking class with Simona and discover the taste of Umbria!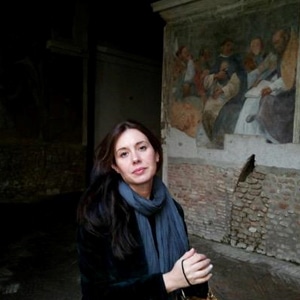 Cristina
This is my seventeenth year as an Official Tour Guide and I'm still excited to explore those villages with histories going back about 2,000 years with visitors! I love sharing my life between Umbria, Toscana, and Roma and now know every single corner of their special places. I also have deep knowledge of the culinary history of Umbria from Etruscan times through the Middle Ages to the present, so am eager to share the very best of the original SlowFood region. Recently, I have become a licensed Vatican City Guide, too. My passion for art led me to study Conservation of Cultural Heritage and travel throughout the world and what else is better than to share my experience with you?
Venice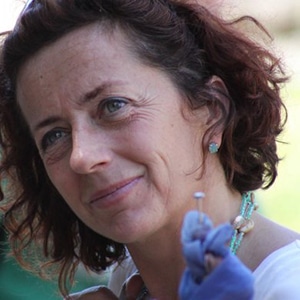 Elisabetta
Elisabetta has been a licensed Tour Leader in the Veneto region for over 15 years. She loves to organize tours in Venice and in the magical area around Venice as well, such as Padova, Verona, Vicenza, Lake Garda, and the Dolomite mountains. A member of the Slow Food movement in Italy, Elisabetta loves taking her guests to small artisan wine and local food producers so that she can share the amazing specialties of the region. Elisabetta is fantastic with children and teenagers, having taken countless school and university groups around Italy over the years. Her favorite tour to give in Venice is of the lagoon, visiting the many islands by a private boat. Her personal interests include art, architecture, the Middle Ages, garden history & design, skiing and trekking in the Dolomite Mountains.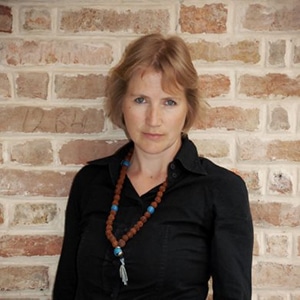 Eva
Eva is your local photography guide and friend in Venice. Living there for almost two decades she has become an absolute expert in knowing the city's most unusual and photogenic spots. Eva was born in Finland where, already as a young girl finishing music school, she fell in love with photography. She went on to study photography in Germany, where she worked with a number of professional studios and developed her personal style. Her last move, before settling down with her Italian husband in Venice, was Rome. Here she fell in love with Italy, its flair and colors, and worked in the wedding and fashion photography industries. She has a private studio in Venice and leads photographic walks in English exclusively for our guests.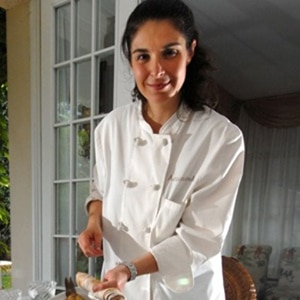 Marika
Marika's mission is to share with you the pleasure of authentic Italian cooking combining the old traditions of Italian ënonnasí with modern and dynamic Venetian cuisine. Talent, creativity and a natural disposition in the art of entertaining found an answer in 1998 when Marika met Yolanda Garretti and Viola Buitoni who employed her in their Catering-Store in Madison Avenue New York. In 2001 she graduated from the Institute of Culinary Education in New York. Marika then worked at Chantarelle, where she learnt techniques and secrets from the famous chef David Waltuck. Since then Marika has catered for Ferragamo, Giorgio Armani and Martha Stewart Omnidia, and has been featured in New York Times, The New York Magazine, New York Weddings, Food and Wine Annual Book 2004 and Bon Appetit Book. Today, at her family palazzo on Lido Island, she provides private cooking lessons as well as catered events.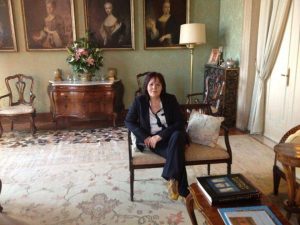 Nadia
Nadia was born in Venice and has dedicated her life to sharing the unique and magical beauty of her region with visiting guests. She believes that the secret to truly appreciating Venice is to get off the beaten path, and enjoy its silence, its incredible light, its majesty and very rich history. She firmly believes that even a site as busy and popular as San Marco can be experienced in a different way, thanks to a guide's sensitive, intelligent approach and unique itinerary. Apart from opening the Secret Door to Venice to our guests, Nadia is very eager to take them to other areas in Veneto. Whether it's a luxury outlet shopping trip, a day discovering the countryside, a Prosecco tasting, or a day exploring aristocratic villas and royal summer homes that you are interested in – Nadia is your perfect guide in Venice.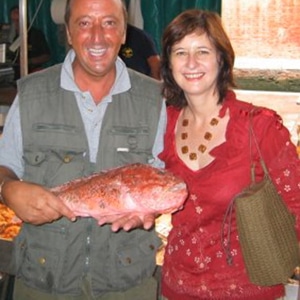 Sara
Sara is an art historian who graduated from the Ca Foscari University of Venice. With Sara you'll learn about bustling markets, great street food, and historical secrets that will leave you wanting more. You will gain insight into the sweep Venetian history, while at the same time learning some curiously fascinating food facts of the area. Learn about the influence of the Turks in Venice, fish and fishermen in Venetian history, food in Venetian art, or take a tour of the lagoon to see its fascinating islands and artistic treasures. The delightful and insightful Sara is also a licensed Sommelier and expert on cuisine of the Veneto area, and organizes tours of the Veneto region featuring the Prosecco growing region and DOCG and Grand Cru wine tours, special mountain cheeses, and the Palladian Villas.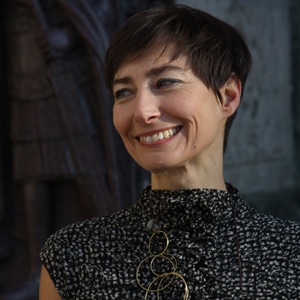 Luisella
I was born and raised in Venice where I've worked as a fully-licensed tour guide since 2000. Lots of different interests: art, history, environmental studies, photography, music, literature, fashion… But what I like most is to reveal interconnections to create context: you will for sure not hear bare delivery of information! Also, what makes cultural heritage something of great value is the human heritage, so expect to hear stories about people and meet artisans promoting local traditions and keeping history alive.
I graduated from the University of Ca' Foscari in Venice and then continued my studies abroad in the USA and Germany. I currently live in Venice with my husband and three cats.
Sicily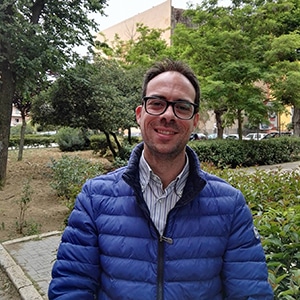 Michele
I was born in Caltagirone and can't live anywhere else than on my wonderful island, Sicily! I graduated in archaeology at the University of Viterbo, specialising at the master's level in the promotion and conservation of cultural heritage. After graduating I returned to live and work in Sicily where I devote my time to promoting the greater and lesser-known wonders of the island from its ceramics to its many UNESCO heritage sites. Sicily offers an unbelievable number of suggestive itineraries to engage the visitor first-hand. For this reason I enjoy offering various types of hands-on experiences from Sicilian cooking to ceramics. It's a magical place where you can experience the hot lava fields of Mount Etna and the crystalline sea below Taormina in the space of a few hours. Once you've visited Sicily, you can't stop coming!