Ancient City Express
Type
Private Walking Tour
Rates
€365 up to 5 ppl, €40/extra person
Group
Contact us for groups larger than 7
I
n only half a day you can explore the best of Ancient Rome with a private guided tour of the Roman Forum, the Palatine Hill, and the Colosseum. With just a few hours your private guide will help you experience the top sights. Skip the line with reserved entry tickets.
One of the 'must see' areas of Rome, the Roman Forum, Palatine Hill and Colosseum represent the best of what was the ancient city. We will enter the heart of Ancient Rome represented by the civic center of the forums digging through the layers of its pagan roots through to Christian times. The Colosseum has been the emblem of Rome for its inhabitants and visitors for nearly 2,000 years. Fifteen stories high, covering 7.5 acres, it was built over the lake of the Emperor Nero after his suicide in order to wipe out any trace of his existence. In this arena the power of theater was taken to extremes never seen before as we evoke the truth of its past with a legacy of stories stranger than fiction.
The Forum and Palatine are enchanting and beautiful places to visit with secrets that do not easily reveal themselves, but our expert guides make the very stones speak! Your guide will show you how each stone tells a fascinating tale of intrigue and power struggles, murder and ambition while at the same time representing civilization and law, beauty and religious piety. Our traditions of religious tolerance, law and representative government all develop from this hallowed ground.
From the massive palaces on the Palatine Hill to the almost vanished remains of the temple to Cloaca, the goddess of the sewers, each stone tells an unforgettable tale of an ancient and venerable Rome which has occupied the same place for over two millennia. Exploring the streets, temples and great monuments, we breath life into the stories of emperors, philosophers and great politicians. From Vestal Virgins to slaves and gladiators, we follow the fascinating history and traditions of the evocative era of Julius Caesar, Mark Antony and Cleopatra to Augustus, Cicero and Nero. But not everyone was as well off! An interesting story is told by the details of the nature of daily life for the men, women and children who inhabited this world.
Related
Tours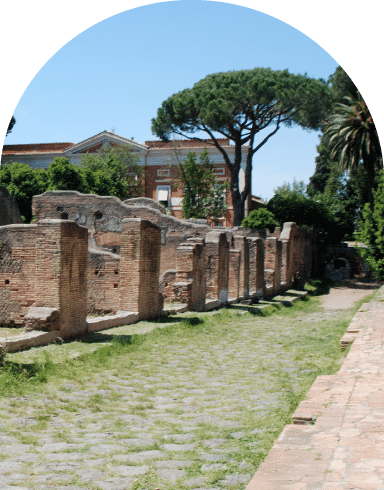 430,00

€
Archeologist for a Day
A kids tour of Ostia Antica
Only 30 minutes from Rome, you can explore the lost port city of Ostia Antica. With its umbrella pines and stately ruins it provides a rare opportunity to play detective as you uncover the houses, restaurants, shopping malls and theaters of this once wealthy port town. You might find out that life hasn't changed all that much over the centuries!
View Tour