Florence Express
Privately guided walking tour with the Accademia or Uffizi Galleries
Type
Private Walking Tour
Rates
€365 up to 5 ppl, €40/extra person
Group
Contact us for groups larger than 7
E
xplore the artistic and architectural highlights of Florence with a private expert guide. Walk through piazzas and cobblestone streets, and visit the Galleria degli Uffizi or the Galleria dell'Accademia with skip-the-line, reserve entry tickets. With your private guide you will visit the intimate cobblestone streets and piazzas of enchanting Florence as the artistic and architectural highlights of the city unfold before you. You can choose to visit either the Uffizi or the Accademia where your guide's vast knowledge of Florentine art and history will insure a memorable visit. All the while your guide will also be giving you a thorough background on the fascinating and influential Medici merchant family who not only created the first medieval mercantile fortune, but whose patronage of the arts led directly to the birth of the Renaissance, out of which prospered such great artists as Botticelli and Michelangelo. Your guide will bring the city's history alive from its greatest achievements to its darkest moment with the rise of the Dominican priest Savanarola and his Bonfire of the Vanities in which countless great works of art were lost to the flames.
Related
Tours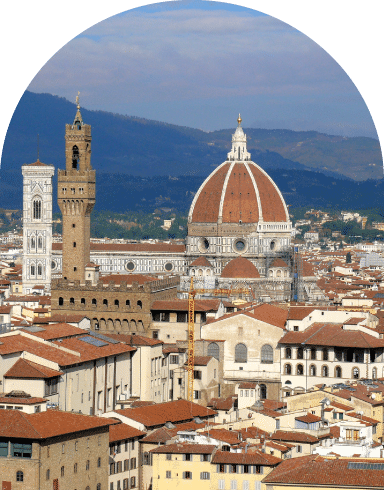 300,00

€
Orientation Walking Tour of Florence
Experience Florence as the Florentine do, enjoying the best museums, cafés, restaurants, markets and shops. Uncover the many secrets found within the historical fortress walls and learn the "ins and outs" of the city with a local private guide.
View Tour