Rome by the Bite
Complete Food Lover's Tour Including All Tastings
Type
Private Walking Tour
Group
Contact us for groups larger than 2
Y
ou will spend this day with a unique guide who is an archeologist and historian, as well as a sommelier and food expert. This tour can be done in the morning to incorporate the market, or in the late afternoon so you can visit enotecas and sample some wine.
Tastings typically included in the tour are:
- (kosher) Jewish restaurant/bar for typical artichokes
- porchetta (slow roast pork)
- prosciutto, salumi, mortadella
- suppli and arancini (fried rice balls)
- baccala (fried salted cod)
- visit chocolate shop (no tasting)
- visit fresh pasta shop (no tasting)
- Campo de' Fiori farmers' market (no tasting)
- gourmet cheesemonger
- excellent artisan gelateria
- wood burning oven pizza bakery for focaccia or pizza bianca/rossa
- traditional Roman enoteca for some local Lazio or other Italian wine
- excellent Roman bar for best espresso or cappuccino
*This is a sample itinerary; items tasted will depend on seasonal and other availability, as well as your preferences, dietary needs and requirements.
Related
Tours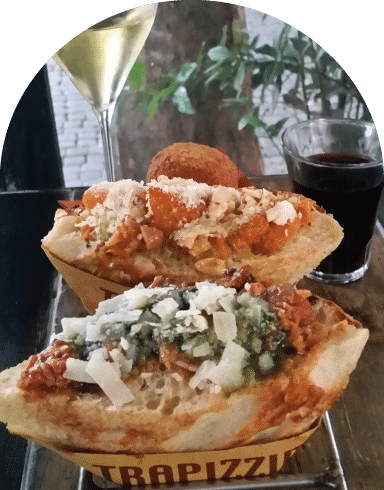 340,00

€
Tasting Rome
Rome street food
This very informal, fun tour will take you beyond the world of gourmet, restaurants and a-la-carte: discover Rome's vibrant and traditional "street food"!
View Tour