Two Day Rome Highlights
Artistic, Cultural & Culinary Delights
Type
Private walking tour
Rates
€1280 up to 5 ppl, €100/extra person
Group
Contact us for groups larger than 5
L
et's immerse ourselves in the cultural, historical, and culinary highlights of Rome. Let us reveal a complete vision of Rome with its hidden symbolism, palaces of the popes and nobility as well as the greatest works of art by Raphael, Michelangelo, Bernini, and Borromini, bringing to life the history and stories as they happened in the Eternal City of Rome. We'll stroll along the streets and passageways of the Eternal City, visiting the most important sites over two exciting days. From the Vatican City to the Pantheon and the Ancient Monumental Park of the Colosseum, Forum and Palatine, we'll experience some of the world's most beautiful art and architecture. We'll uncover the secrets and symbolism behind the most beautiful piazzas and fountains dotted throughout the center of Medieval, Renaissance and Baroque Rome. This tour can be arranged to include the Vatican Museums and Sistine Chapel, if you wish.
We can't pass two days together without breaking for some mouth-watering food, wine, and craft beer! We will learn about the richness of Roman cuisine through well-chosen tastings. We will have time to savor traditional street food by taking a breaks now and then to visit our favorite places for gelato, pizza bianca and espresso or cappuccino and to share an excellent lunch at one of our favorite pizzerias or osterias. Perhaps we'll eat a traditional Italian meal from appetizer to pasta and second course with wine, dessert and coffee or if we like we can savor a Roman-style thin crust pizza before continuing our day stroll. Perhaps you'd like to end the day with a glass of wine or artisanal beer at one of our favorite wine bars/pubs at aperitivo time in a sunny piazza.
Related
Tours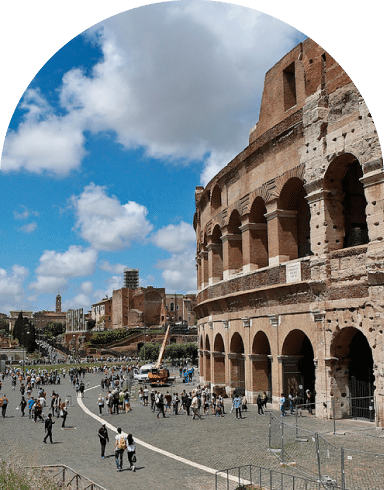 360,00

€
Fabulous Rome Highlights of the City Center
Let your private guide take you to fascinating architectural masterpieces from the Pantheon to the Spanish Steps. Visit charming piazzas, bubbling fountains, and baroque churches for a tour of Rome's incredible historical sights while also going off the beaten path to uncover treasures that remain hidden to most.
View Tour