Venice City Highlights
Type
Private walking tour
Rates
€430 up to 2 ppl, €40/extra person
Group
Contact us for groups larger than 7
O
pen the secret door to Venice on a city highlights walking tour a native Venetian guide. Learn to navigate like a local, visiting the markets, learning how to order a glass of wine or an espresso, and seeing some of the most famous sites in the city. Discover Venice with a native Venetian guide! This 4 hour private walk of Venice is the perfect walk to take upon arrival in Venice. After this tour, you'll have a good feel for the city and be able to navigate Venice like a local for the remainder of your holiday. Your guide will introduce you to this special place, its layout and history, with an insider's perspective, to make the most of your first step onto this amazing city made up of hundreds of tiny islands joined by an equally dizzying number of bridges. During your tour you'll get a good feel for how genuine Venetians used to live and how they live today in this unique city. Visit markets including the beautiful fish market, learn how to order a glass of wine or an espresso in a bar, stop for cicchetti (appetizers) or a tramezzino in a local bacaro. This tour allows you to see the most famous sites in Venice but also how to enjoy its authentic places that are easy to reach but often hidden from outsiders. Let us open the Secret Door for you! We believe that this is the key to visiting this amazing city and we want to share our knowledge with you. The walk includes many of the most famous sights such as St. Mark's Square, the Frari, San Marco and Rialto as well as very interesting off-the-beaten-path sites. You will stop for a cappuccino along the way at a charming cafe and from a traghetto landing learn to cross the Grand Canal standing up in a gondola as the Venetians do! You will also visit some of the less-traveled areas of Venice where Venetians live and which are away from the congestion of the St Mark's area, discussing the treasures, oddities and artistic and architectural heritage of this unique city. During this tour your guide will suggest additional itineraries for you to see the best works of art, restaurants and other notable or hidden Venetian sights.
Related
Tours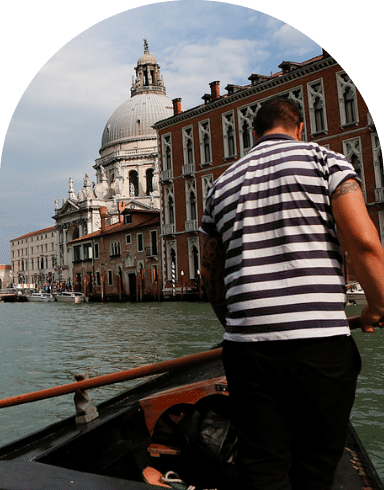 226,00

€
A Venetian Gondola Ride in The City of Water
Climb aboard a gondola with a true gondolier and explore the canals of Venice, one of the most romantic cities in the world. Learn the age-old symbolism, history, and traditions of the city, while you float under the hundreds of bridges that make up this amazing "Floating City".
View Tour